• cabinet organization • declutter • kitchen gadgets • Media Mentions • mug organizer
BuzzFeed
, a leading player in trends and lifestyle, recently brought adjustable
Mug Organizers
into the spotlight. These unique kitchen organizers are not only a practical solution to declutter your space but also serve as a stylish accessory to elevate your kitchen aesthetics. Whether your kitchen is small or spacious, these adjustable mug organizers can streamline your space, making it easier to access your favorite mugs while also adding a touch of charm. With an increasing focus on minimalistic living and smart organization, the emergence of these must-have kitchen accessories is a timely trend. As they make their way into more households, thanks to influential endorsements like BuzzFeed's, the era of
Adjustable Mug Organizers
is truly upon us.
---
• cabinet organization • kitchen gadgets • Media Mentions • mug organizer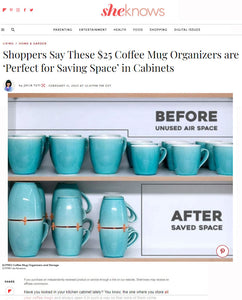 We are proud to share that our Coffee Cup Organizer has been featured on SheKnows, a popular blog focused on lifestyle, parenting, and empowering women with knowledge and information. In her article, writer Julia Teti highlighted the convenience and functionality of the Elypro Coffee Cup Organizer: "ELYPRO has designed a little contraption that'll totally upgrade how you store your coffee mugs. ELYPRO's Coffee Mug Organizers are designed to ensure your cabinet space is wholly optimized and spacious. This little organizer is an adjustable stacking device perfect for any size mug. It's one size fits all, so all of your favorite mugs will stack safely inside your cabinet from this...
---
• Bathroom Gadgets • bathroom Must Have's • Media Mentions • toilet brush
We're thrilled to share that our Toilet Brush Set was recently featured in a Good Housekeeping article by writer Jodhaira Rodriguez.  If you're tired of cleaning up puddles of water on your bathroom floor every time you clean your toilet, we have good news for you: Good Housekeeping has named our drip-free toilet brush as the best on the market in their recent round-up of the best toilet brushes. The Good Housekeeping Institute put a variety of toilet brushes through rigorous testing, evaluating factors such as the brush's ability to remove stains, the strength of its handle, and the effectiveness...
---
• Bathroom Gadgets • bathroom Must Have's • Media Mentions • toilet brush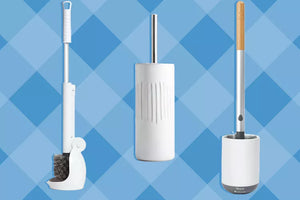 If the thought of toilet water dripping around your bathroom after using a toilet brush gives you the heebie-jeebies, it's time to try the Elypro Drip Free Toilet Brush. This innovative tool is designed to make cleaning your toilet a more hygienic and mess-free process, and it's been featured in the article "The Best Toilet Brushes" on Better Homes & Gardens' website. The Elpro toilet brush features an attached caddy to help prevent excess water from dripping from the brush after using it. Simply push a button on the shaft, and the caddy folds out of the way, exposing the rounded plastic...
---
• Bathroom Gadgets • bathroom Must Have's • Media Mentions • must have bathroom gadgets • toilet brush
If you're in the market for a new toilet brush, you're in luck. The team at House Digest has rounded up the 15 best toilet brushes of 2022, and our very own drip-free option made the cut. Unlike traditional toilet brushes that can leave a trail of water and grime on your bathroom floor, our brush features a built-in drip guard that catches excess water and prevents it from spilling out. This not only keeps your bathroom clean and dry, but it also makes the brush itself easier to clean and store. But the benefits of our drip-free toilet brush...